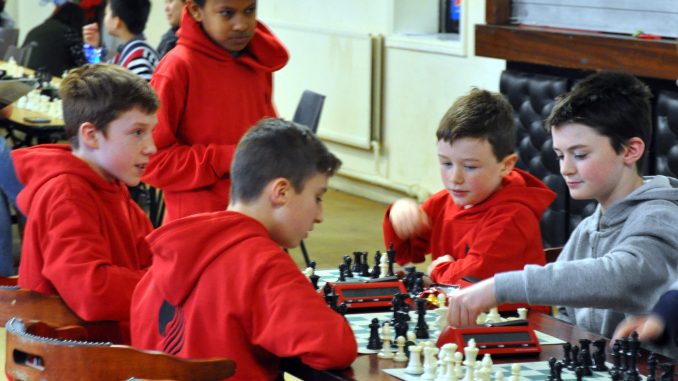 The Junior club ran a large Grand Prix event over four rounds today.
Congratulations to Shane Grennan, Ana Terres and Roisin Bell for organising this event so well. The junior players are very grateful.
The Club tournament resulted in a tie between three of our most experienced and strongest junior players: Sean, Marco and Maciej. Just behind them was Andrew.
Congratulations to all the participants!
Blanchardstown Junior Grand Prix
18 February 2017
Director
Shane Grennan
Organisers
Ana Terres
Roisin Bell
Round by round results
Rank
Name
Age Group
Score
M/F
Rating
1
2
3
4
1
Sean Leahy
u14+
4
M
988 *
1
1
1
1
2
Marco Blackwell
u14+
4
M
971 *
1
1
1
1
3
Maciej Fijalkowski
u12
4
M
894 *
1
1
1
1
4
Andrew Harten
u14+
3.5
M
1050 *
1
1
½
1
5
Alex Babin
u10
3
M
1219 *
1
1
0
1
6
Thomas Gartlan
u10
3
M
993 *
1
1
1
0
7
Aarav Jibin Abraham
u10
3
M
934 *
0
1
1
1
8
Calvin Farrell
u10
3
M
898 *
1
0
1
1
9
Maria Harten
u12
3
F
848 *
1
0
1
1
10
Tomasz Fijalkowski
u12
3
M
843 *
1
1
1
0
11
Sargis Ghukasyan
3
M
0 *
1
0
1
1
12
Soham Ganguly
3
M
0 *
1
0
1
1
13
Abilash Sathesgumar
3
M
0 *
0
+
1
1
14
Owen Yu
3
M
0 *
+
1
0
1
15
Ayman Khalid
u14+
2.5
M
1026 *
0
½
1
1
16
Alice Centore
2.5
F
0 *
½
1
1
0
17
Oscar Gao
2.5
M
0 *
1
1
½
0
18
Owen
u12
2
M
1088 *
1
1
0
0
19
Mark Grennan
u12
2
M
1039 *
0
1
1
0
20
Jack McCann
u12
2
M
947 *
1
0
0
1
21
Christopher Gallery
u10
2
M
883 *
1
0
0
1
22
Mia McCann
u10
2
F
879 *
1
0
1
0
23
Amelie Bell
u10
2
F
863 *
0
1
0
1
24
Ben McCann
u8
2
M
811 *
0
1
0
1
25
Adam McGovern
2
M
800 *
0
0
1
1
26
James Byrne
u10
2
M
782 *
1
0
½
½
27
George Syrtsov
u10
2
M
707 *
1
0
1
0
28
Conor Green
2
M
0 *
0
1
1
0
29
Reuben Garvan
2
M
0 *
1
1
0
0
30
Nadia Sergeieiva
u12
2
F
0 *
0
0
1
1
31
Emily Ghukasyan
2
F
0 *
½
1
0
½
32
Niall Lane
2
M
0 *
0
0
1
1
33
#044
2
M
0 *
0
1
1
0
34
Sarah McGovern
1.5
F
800 *
0
1
0
½
35
Daniel Quinn
u8
1.5
M
799 *
0
1
0
½
36
Conor Green
u10
1.5
M
773 *
½
1
0
0
37
Illia Sergeieiv
1.5
M
0 *
0
0
½
1
38
Jacob Kitta
1.5
M
0 *
½
1
0
0
39
Niamh
1.5
M
0 *
0
0
½
1
40
Thomas Sheehan
1.5
M
0 *
1
0
½
0
41
Daniel Borton
u12
1
M
1067 *
0
1
0
0
42
Matthew Quinn
u12
1
M
956 *
0
0
1
0
43
Nika Kotliarova
u8
1
F
712 *
1
0
0
0
44
Laura Caporusso
1
M
0 *
1
0
0
0
45
Caitlin Dassanayanke
1
F
0 *
0
0
0
+
46
Olesea Tutumaru
1
F
0 *
0
0
+
0
47
Jacopo Panunzio
u8
0.5
M
722 *
½
0
0
0
48
Mariada Fidanza
0.5
F
0 *
½
0
0
0
49
Oscar N
0.5
M
0 *
0
½
0
0
50
Filip Suben
0.5
M
0 *
0
0
0
½
51
Filip Kitta
0.5
M
0 *
0
0
0
½