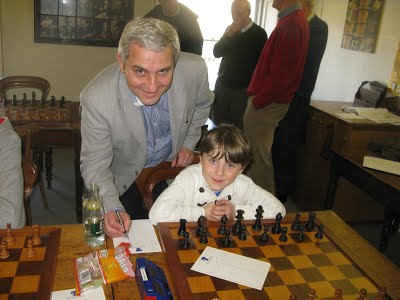 Well, the dust has settled, the ICU report written and everybody is probably holding up the bar or travelling home…unless they are playing in the Kilkenny Blitz. Now…that is fun!!….if anyone is sober enough to remember it. Now comes the joy or despair post tournament…awaiting the rating improvements…or not as the case may be!. Step forward our daring foursome, and due to receiving an e-mail from dad, recalling a former member. Nice to know that our Club website is read by others. The Challengers saw Mark Cummins score 5/6, and a performance rating of 1627…Wow!! Also sharing 2nd equal spot, ex club member Vinajak Unitham, and that is indeed good to see. Hopefully we'll renew acquaintances in the O'Hanlon next season…….just hope they are ready!! Gavin Doyle did not enjoy the Sunday as much, slipping to =21st with 3/6 and a performance rating of 1288. …chess fatigue perhaps? Have a good rest Gavin, we need you fighting fit for January. In an exceptionally tough Majors section, Danny and Sean did very well. Danny finished =12th with 3.5/6 perf. rat. of 1807.
Good stuff, and its not often Danny is overshadowed…step forward Sean McLoughlin. =3rd, 4.5/6 and a perf. Rat. of 2052. Going by the list of his opponents, he is sure to have played exceptionally well…and for some…that is no surprise.
What a great performance from Sean!! Well done indeed.