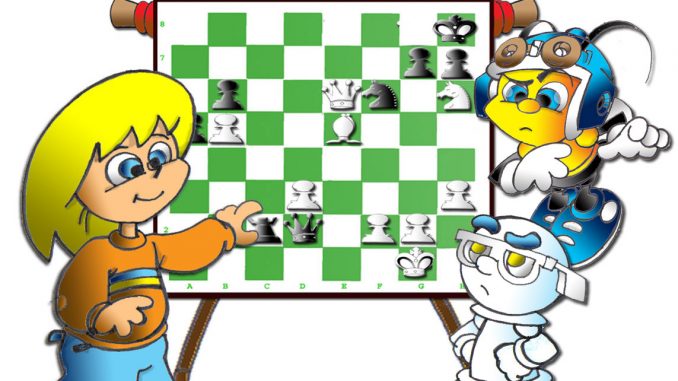 Paper (or printed) material talking about chess tactics is very helpful on the coaching and self-learning. There are numerous chess books or digital media materials that can help. The club is going to use the following free book as the reference for tactic training. Young leaders will prepare with the sections and help on explain and practice the tactics. Each week, we will spend the first 20 – 30 mins time and learn something new, before the tournament.
You can get the materials by visit this website:
http://www.instituteofchess.co.uk/
There are 5 levels:
Level 1: learn how to play chess. You can download the pdf version material and print.
http://www.instituteofchess.co.uk/ESW/Files/Level_1.pdf
Level 2: basic tactics, good for players who only know how to play.
http://www.instituteofchess.co.uk/ESW/Files/Level_2.pdf
Start from next week, we will try to explain and practice page 2 – page 13. Parents can print the material in advance and pre-view the content with kids.
Level 3 – level 5 are advanced materials. We will see if in average junior players can digest level 2 well. We may get involved a little bit in level 3 during the year.
And, if your kid has no knowledge of chess and wants to learn how to play (basic rules), I recommend the following book. A 6-7 years old child can easily read the book by himself/herself. And it is fun.
https://www.amazon.co.uk/dp/0746048300/ref=cm_sw_em_r_mt_dp_U_3XyDDbQHXQ142
Henry