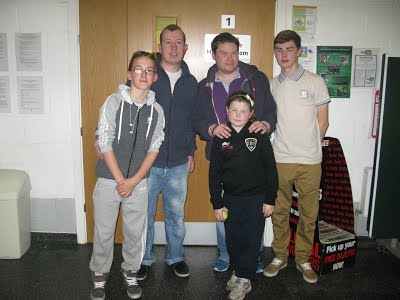 Hi everyone,
We welcomed Heidenfeld Giant-killers Rathmines to our new venue and it was soon noticeable how their B team put their A team to the sword last month. It started with various players meeting each other outside…….trying to find the premises. The Dinosaur ended up at the Swimming Pool, and spent his match treading water. ….how fitting. Acting Captain Sean led the way with a nice win to continue his good form from finishing 2nd at the St Andrews tournament at the weekend. There is no truth in the rumour that Dad Robert was unavailable because Sean beat him on Saturday. Gabor had to work hard to hold a draw Gavin also drew with the younger Hunter brother. New man Marius ground down his elderly opponent ; John overcame a Gentlemanly Greek not bearing gifts, whilst Rudi ran down his clock before snaffling the point. Sean was in the early stage of the Tremblies whilst watching!! For the uninitiated……the Tremblies is a Neurological Chess condition resulting in Uncontrollable shaking whilst the Brain is less effective than a Soggy Blancmange!! Mark battled long & hard before succumbing to aggressive play by his opponent. As for the Dinosaur….last to finish as usual……,he fought off the inevitable extinction by saving an inferior ending with varying degrees of pawns and pieces down…..totally undeserved!!.
A 5.5-2.5 winning match score was a fine result overall.
As for the venue itself…it felt good and welcoming & Well done to all the Staff, particularly the Caretaker.
ps….it's hard to find a picture without Luke in it!!